Top 5 Streaming Platforms for Live Event Streaming (+ Pricing)
Having a smooth, engaging online event starts with your platform. It's the same as choosing a venue, except a venue doesn't crash. Fortunately, there are plenty of options out there, and this competition means that there are also improvements across platforms.
It can be tempting to opt for the free option, and these can be great for informal chats. However, if you're planning an event, then it's essential to know the functionality available to you from the get-go. It's best that these things aren't a surprise well into the planning session when you've already sent the URL link onto attendees. So we've got the top five to narrow your search and impress the attendees of your next event. If you're looking for more tips for your next livestream, we've tackled the main steps to consider.
Zoom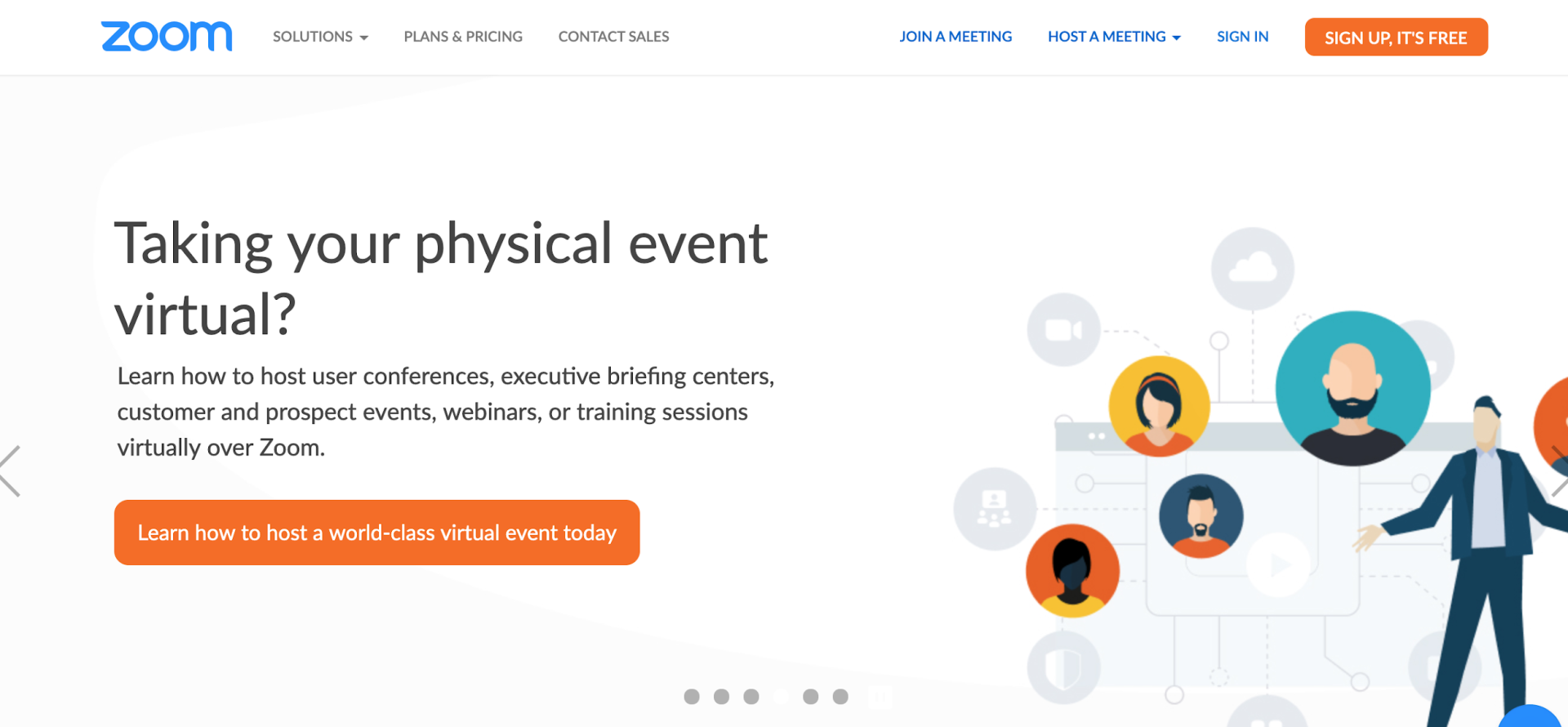 The platform that demands a mention here. After all, since the beginning of 2020, Zoom has become a casual verb in every household and office. However, although it has plenty of decent features, it's not the best option for a lot of businesses that are currently using it. The analytics section leaves a lot to be desired. And the paid option only allows for 40-minute meetings. Saying that, the reason that it's so popular is that people have gotten used to it. People already have the software downloaded and are familiar with it, and getting attendees to get used to another platform might not go down all too well. Only the business and enterprise options provide very useful transcript options.
Zoom Pricing
Basic – free
Pro – €139.90 per year per license (up to 9 licenses, and 100 participants per meeting)
Business – €189.90 per year per license (starting at 10 licenses host up to 300 participants)
Enterprise – €189.90 per year per license (starting at 100 licenses, host up to 500 participants)
DaCast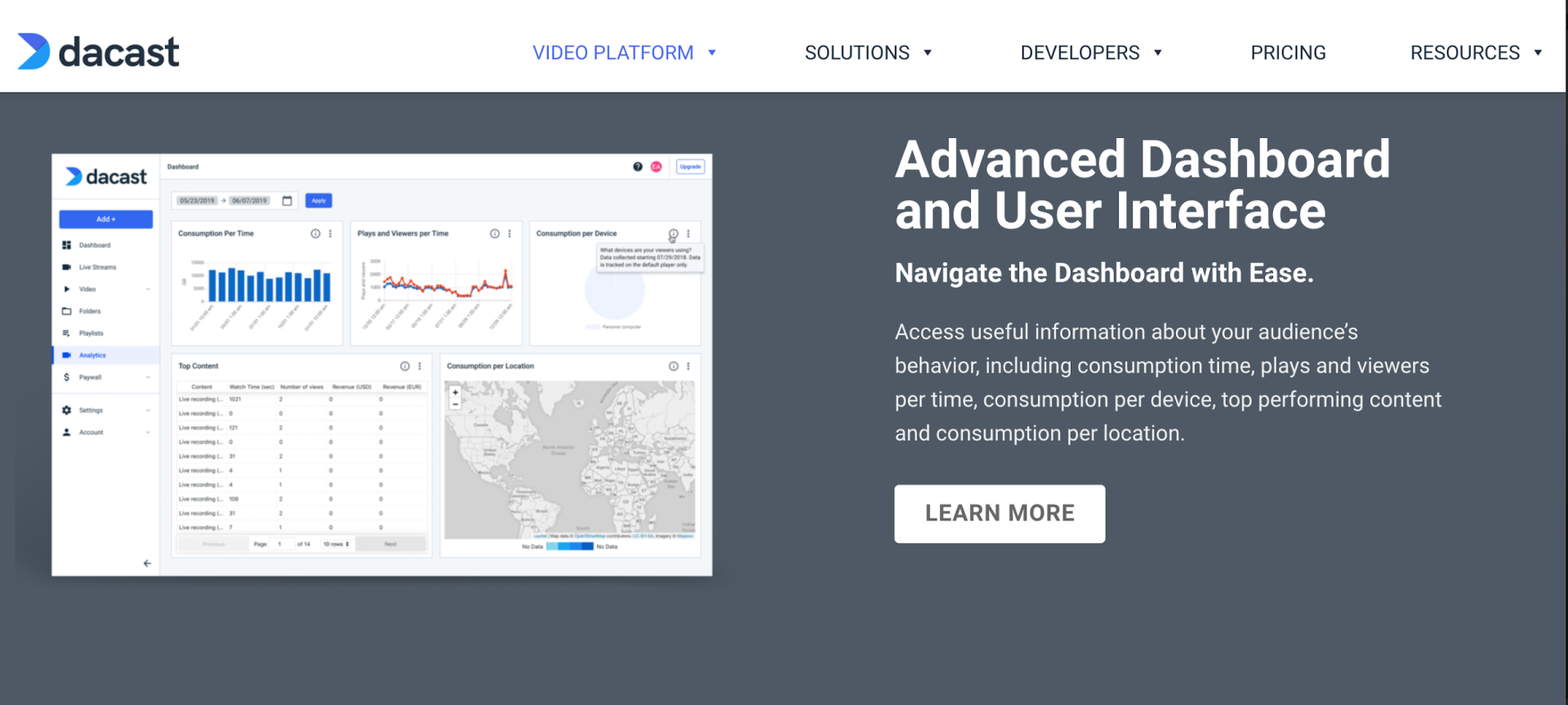 DaCast is an excellent option if you're looking to host as well as broadcast your events or meetings. Security is high on the pros for this streaming company. All on this list, bar Instagram Live, provides passworded access. However, with Dacast you can also set up access based on geographic location or set up parameters, so you are in control of who's in your meeting.
DaCast is also known for having a stable stream service and is also easy to embed onto your website. Another major benefit is the unlimited number of concurrent viewers no matter which plan you select. One factor to keep in mind is that DaCast no longer provides built-in chat, however, it does work with plug-ins. In terms of analytics, DaCast offers an advanced analytics dashboard allowing you to learn your most engaging content.
Dacast Pricing
Starter: $21 per month
Event: $63 per month
Scale: $188 per month
Custom: High volume plans
*Prices are stated in dollars on the site
Instagram Live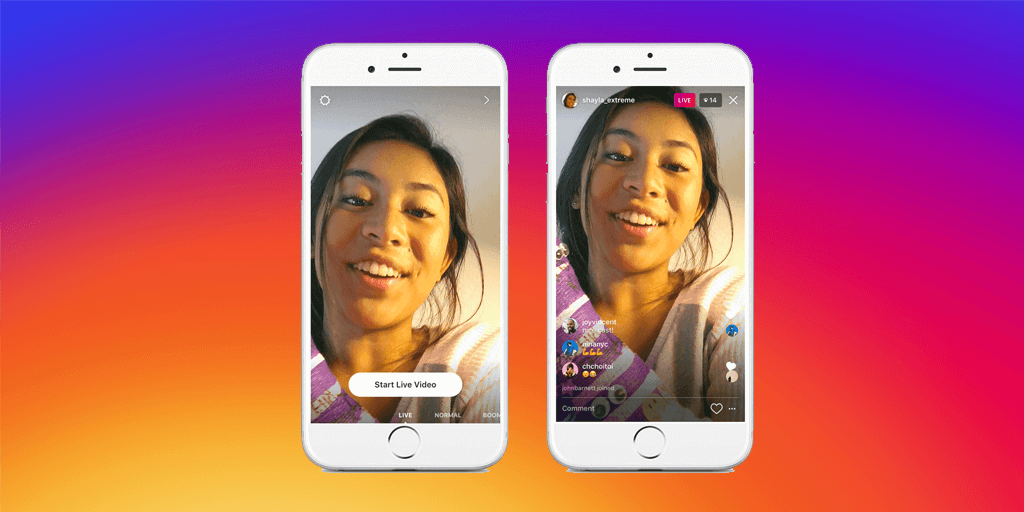 Out of all of the free, easy-to-use options, Instagram Live is the winner. The reason for this is the surge in Instagram – more people across a growing demographic are tuning into Instagram on a daily basis. If your followers have their Instagram push notifications turned on, then they'll receive a notification when you've started a Live.
The format and feel of Instagram Live are set up for those fireside style chats, where you can really showcase the human side of your business. Letting your audience behind the curtain can't be overstated; consumers want to know the story behind the brand. The integrated chat feature as helps with this. You can connect with viewers and offer time to hearing their questions or opinions. The Live can stay on your story for up to 24 hours, so people can tune in when they have the time.
Instagram Pricing
Free
Webex
Webex is one of the most scalable options out there. Unlike Zoom, the free option allows users to host meetings of any like – Zoom's is limited to 40 minutes.
Webex is most often seen used by mid- to large-sized companies. What makes this platform so enticing is in its 'one button to join' feature. Sometimes it can feel like a maze to join a video conference, but Webex has succeeded in streamlining the user journey.
There's a lot of features that make being a host easier, less time-consuming and impressive for your audience. AI meeting assistants take meeting notes and highlights so you can focus on the meeting. This machine intelligence can also automatically create post-meeting recap emails with highlights and action items to keep working moving after the meeting.
If you're looking detailed, powerful analytics, then this is also a big reason to consider Webex.
Webex Pricing
Free – limited to 1 host
Starter – €12.85 per host p/m, 1-9 hosts
Plus – €17.30 per host p/m, 1-50 hosts (includes cloud storage and the ability to record and transcribe meetings)
Business – €25.65 per host p/m, 5-100 hosts
Vimeo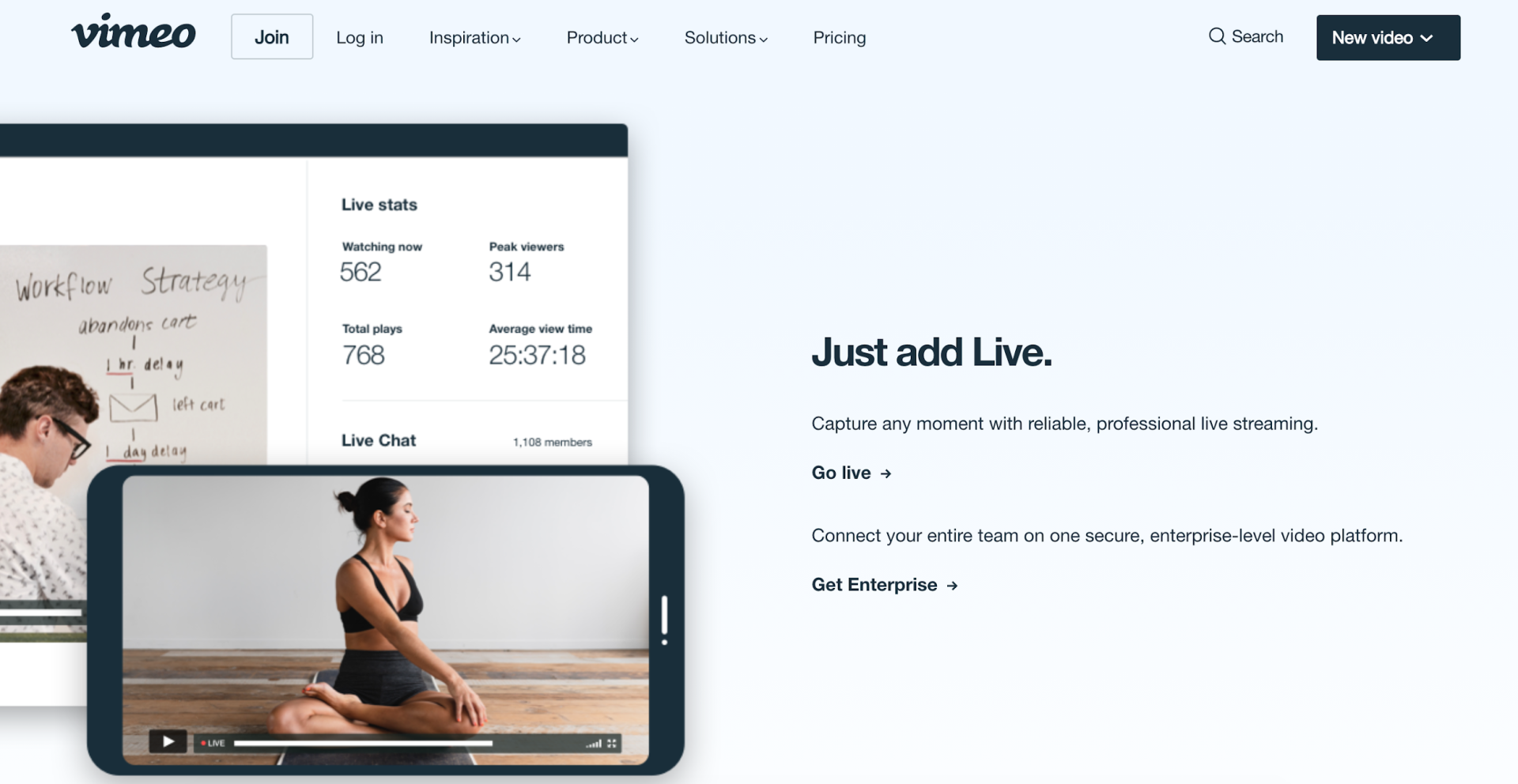 Vimeo is where to go if you're looking for high video quality. You can broadcast your events in full HD with adaptive streaming. And when your event is over, it's auto-archived in up to 4K.
Real-time statistics on your viewers' behaviour and chat provide you with an instant understanding of your audience's needs and any issues that may arise. Vimeo is all about ease of use. It's simple to navigate, simple to set up and can be easily embedded on your website or social.
Vimeo pricing
Vimeo Basic – $7 per monolith (billed annually)
Vimeo Pro – $20 per month
Vimeo Business – $50 per month
Vimeo Premium – $70 per month
Looking for a professional to help organise your online event? We'd be happy to help your company as a virtual events producers – simply get in touch with us here.
---